A Guide to Maui's Whale Season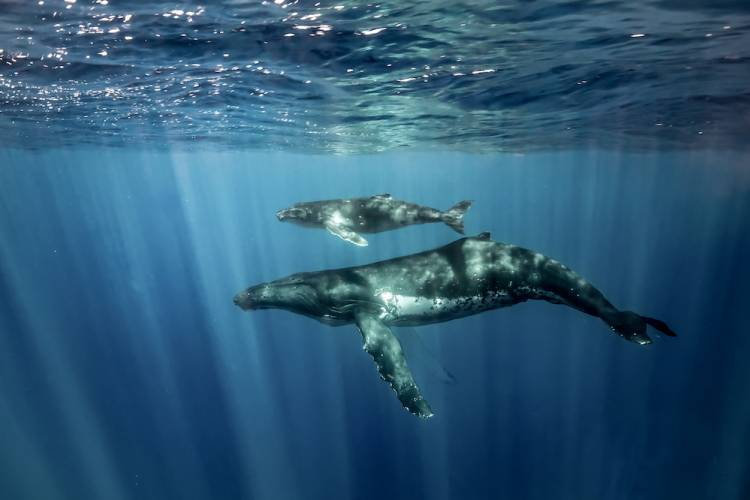 Maui is the destination where North Pacific Humpback Whales (Kohola) come to breed, birth, and raise their young in the comfort and safety of the warm waters! The whales travel over 3,500 miles each year from the cold waters of Alaska to the island paradise of Maui. During your Maui beach vacation, be on the lookout for signs of surface activity! During Maui's whale season, visitors can see the magnificent creatures on a near-daily basis from the beach, on a whale watching tour, and even driving along the coastal highways! 
When is Whale Watching Season in Maui? 
Maui vacationers who have whale watching at the top of their list should visit between the months of January and March. February is the height of the whale season, with the highest possibility to see the whales.  
The migration from Alaska to Maui can take anywhere from 4-6 weeks with between 8,000 and 10,000 whales visiting Maui on an annual basis. The whale's 12-month gestation period means that the whales that come to Maui to mate, return the following year to give birth and raise their young in the pleasantly warm waters without threat from predators.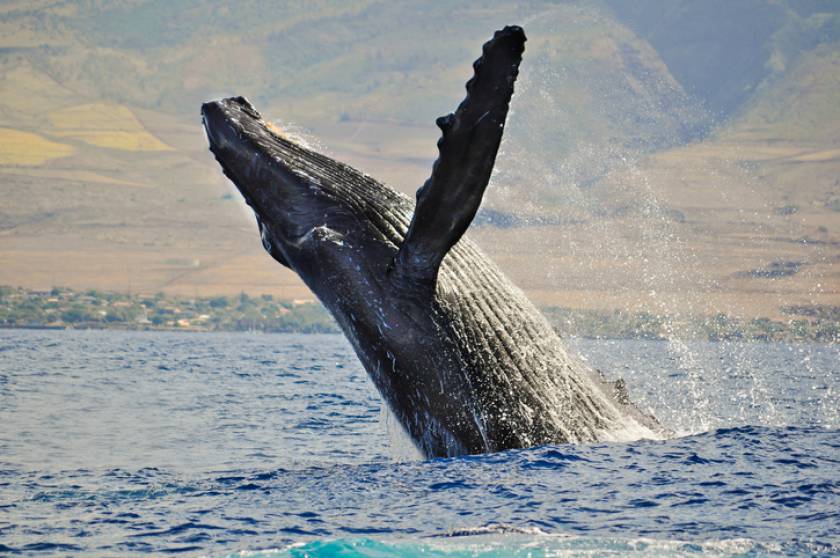 Whale Watching in Maui 
For those visiting the island of Maui during the height of whale season, whales can be seen in a multitude of ways! Beachgoers only have to watch the horizon to see them breach or flap their tales. If you are swimming or snorkeling, listen underwater as you may even get to hear a whale singing. In fact, a whale's song can be heard up to 12 miles away.  
But if you prefer to get out on the water for yourself to see the whales a bit closer up, then book a whale watching tour! Pride of Maui offers 4-hour whale watching excursions that include a BBQ lunch and snorkeling!  
Best Whale Watching Tours in Maui 
Pride of Maui's whale watching tour is truly an exceptional vacation value. You'll enjoy a full two-hour whale watch combined with snorkeling a beautiful coral reef! 
Duration: 3.5 hours 
When: 1:45pm, MWF 
Cost: Approximately $108 pp (if tickets purchased online) 
Phone: 808.242.0955 
Get onboard with the Pacific Whale Foundation's marine biologists and learn firsthand what it is like to be a whale researcher. This unique adventure includes a 3-hour whale watch with our Certified Marine Naturalist onboard and offers the perfect small group platform for whale watching and photography. 
Duration: 3 hours 
When: 8:00am-11:00am, four days out of the week 
Cost: Approximately $120 pp 
Phone: 808.249.8811 
Set sail with Sail Trilogy for an amazing whale watching experience! During your whale watching tour, you'll get more than just amazing views of the Maui coastline and a front-row seat to whale breaches. Sail Triology will have whale naturalists onboard to share fun facts about the humpback whale. 
Duration: 2 hours 
When: 8:00am, 10:30am, and 1:00pm from Lahaina Harbor 
Cost: Approximately $75pp 
Phone: 888.225.6284 
Book a Maui Vacation Rental Today 
Find a charming island paradise in a Maui vacation rental! Spend time on a private balcony and be on the lookout for whales and enjoy amenities like pool access, a private kitchen, and more.